T537R7 - BIC Triumph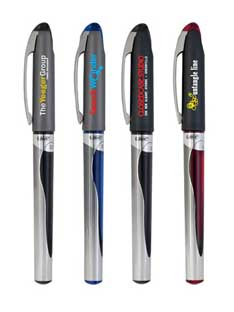 T537R7
BIC® Triumph® 537R
Item #T537R7
Available in .5mm (ultra-fine point) and .7mm (fine point) featuring ultra-smooth ink system for effortless writing
Modern and professional design
Metallic wrapped barrel .5mm has silver cap, .7mm has charcoal cap Jewel-tone accent
Imprint
Screen Printing (SP): Price includes a 1-color cap imprint. 2 colors available. Add $.12 for second imprint color. See diagram for imprint area, location and number of colors.
Imprint Area
SP: 1 1/8"w x x 1/2"H (max. 2 colors)
Product Dimensions:
7/16"W x 5 7/16"H
Product Colors
Black, Blue, Red
Choose 1 trim/ink color. All include silver wrapped barrel and clear rubber grip. Ink color matches trim color.
Point Style / Ink Color / Options
Needle Point .7mm / Black, Blue, Red
Ink Options: .7mm
Production Time: 5 working days.
Product Weight: 400=10 lbs (approx.)
T537R7 - BIC Triumph 537R

QUANTITY
150
300
500
1000
2500
5000

Price Per Unit

$1.79
$1.75
$1.70
$1.67
$1.64
$1.49