CS BIC® Clic Stic®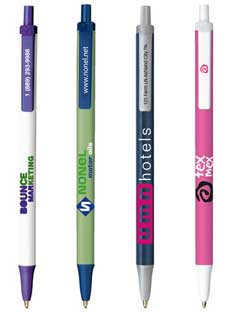 CS
BIC® Clic Stic®
Item #CS
Always in stock
Break-resistant pocket clip
Most popular retractable in promotional products!
Over 400 possible color combinations
Imprint
Screen Printing (SP): Price includes a 1-color barrel imprint. 3 colors available on barrel, 1 color on clip. Add $.12 per pen for each additional imprint color or clip imprint.
Imprint Area
SP: 2 1/8"W x 3/4"H (max. 3 colors)
SP: 1 1/8W x 5/32"H (max. 1 color)
Product Dimensions:
1/2"W x 5 7/16"H
Product Colors
Black, Blue, Burgundy, Clear, Cream, Forest Green, Green, Metallic Dark Blue, Metallic Brown, Metallic Green, Metallic Orange, Metallic Red, Metallic Sand, Navy, Orange, Pink, Purple, Red, Silver, Teal, White, Yellow. Choose 1 barrel and 1 trim color. Please note that barrel and trim colors may not be an exact color match. Flow lines may be visible in metallic barrels.
Point Style / Ink Color / Options
Medium Point / Black, Blue, Red
Fine Point / Black, Blue
Ink Options: BIC® Easy-Glide System® Ink or BIC® Fraud Defense Ink™ option. Add $.05 per pen.
Production Time: 5 working days.
Product Weight: 500=7 lbs (approx.)
CS BIC® Clic Stic®

QUANTITY
300
500
1000
2500
5000
10000

Price Per Unit

$ .73
$ .71
$ .69
$ .62
$ .60
$ .54