CSWB - BIC® WideBody®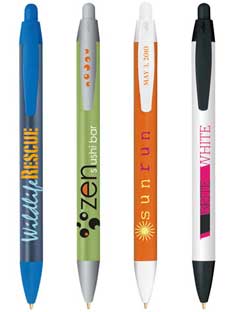 CSWB
BIC® WideBody®
Item #CSWB
Always in stock
Over 300 possible color combinations
Refillable
Wide-profile design with large imprint area
Imprint
Screen Printing (SP): Price includes a 1-color barrel imprint. 3 colors available on barrel, 1 color on clip. Add $.12 per pen for each additional imprint color or clip imprint. Add $.25 per pen for puffy printing option.
Imprint Area
SP: 2 1/8"W x 1"H (max. 3 colors)
SP: 3/4"W x 5/32"H (max 1 color)
Product Dimensions:
5/8"W x 5 9/16"H
Product Colors
Black, Blue, Burgundy, Clear, Cream, Forest Green, Green, Metallic Dark Blue, Metallic Green, Metallic Red, Navy, Orange, Pink, Purple, Red, Silver, Teal, White, Yellow
Choose 1 barrel and 1 trim color. Please note that barrel and trim colors may not be an exact color match. Flow lines may be visible in metallic colors.
Point Style / Ink Color / Options
Medium Point / Black, Blue, Red
Fine Point / Black, Blue
Ink Options: BIC® Easy-Glide System® Ink or BIC® Fraud Defense Ink™ option. Add $.05 per pen.
Production Time: 5 working days.
Product Weight: 500=10 lbs (approx.)
CS BIC® Clic Stic®

QUANTITY
300
500
1000
2500
5000
10000

Price Per Unit

$1.17
$1.15
$1.13
$1.01
$ .99
$ .90