BPS - BIC® Pencil Solids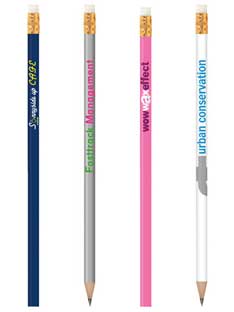 BPS
BIC® Pencil Solids
Item #BPS
Wood barrels with #2 graphite lead
Large imprint area
Imprint
Screen Printing (SP): Price includes a 1-color barrel imprint. 2 colors available. Add $.12 per pencil for second imprint color. For longer imprint life, imprints will be placed toward eraser end of barrel. Sharpening: Add $.02 per pencil. Sharpening may result in lead dust in shipping carton.
Imprint Area
SP: 4"W x 3/4"H (max. 2 colors)
Product Dimensions:
5/16"W x 7 1/2"H
Product Colors
Black, Blue, Green, Navy, Neon Green, Orange, Pink, Purple, Red, Silver, White, Yellow
Choose 1 barrel color. All include a gold ferrule and white eraser.
Point Style / Ink Color / Options
Pencil / Black
Ink Options: #2 graphite lead
Production Time: 5 working days.
Product Weight: 500=7 lbs (approx.)
BPS - BIC® Pencil Solids

QUANTITY
500
1000
2500
5000
10000

Price Per Unit

$ .31
$ .30
$ .29
$ .25
$ .24