BLG - BIC® Brite Liner® Grip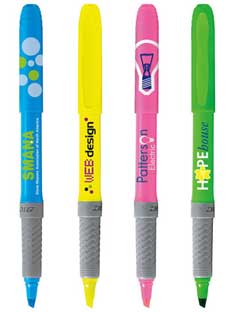 BLG
BIC® Brite Liner® Grip
Item #BLG
Bright barrel and ink colors
Includes gray textured rubber grip
Multiple imprint options
Imprint
Screen Printing (SP): Price includes a 1-color barrel or cap imprint. 4 colors available in any barrel/cap combination. Add $.12 per highlighter for each additional imprint color. Add $.12 per highligher for each color in second location. Imprint is put on cap unless otherwise specified. See diagram for imprint areas, location and number of colors.
Imprint Area
SP: 1 1/2"W x 5/8"H (max. 4 colors)(Default)
(max. 4 colors)
Product Dimensions:
5/8"W x 5 1/2"H
Product Colors
Blue, Green, Orange, Pink, Yellow
Choose 1 highlighter color. All include gray textured rubber grip and matching clip. Ink color matches highlighter color. Please specify your assortment for the 3 or 5 pack.
Point Style / Ink Color / Options
Highlighter / Blue, Green, Orange, Pink, Yelow
Ink Options: Ink matches highlighter color
Production Time: 5 working days.
Product Weight: 400=11 lbs (approx.)
BLG - BIC® Brite Liner® Gri

QUANTITY
300
500
1000
2500
5000

Price Per Unit

$1.02
$1.00
$ .98
$ .96
$ .87