MGBCCL - Business Card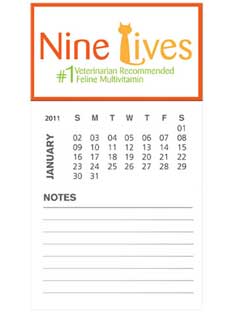 MGBCCL
Business Card Magnet and 12 Sheet Calendar
30 mil Item #MGBCCL
FREE stock backgrounds
Full bleeds available
Always in stock
Imprint
4-Color Process (4CP): Price includes a FREE 4-color process imprint on a white surface. Stock shapes do not include the stock backgrounds shown as a standard feature. To add a FREE stock background, please be sure to specify the background name on your order.
Magnet with 12 Sheet Calendar orders placed after June 1, 2012 will default to 2013 calendars unless otherwise specified.
Production Time: 7 working days.
Product Weight: 256=13 lbs (approx.)
Recycled Content Info
Magnets are made from flexible magnet sheets containing a minimum of 12% recycled material.
MGBCCL - 30 mil Business Card Magnet and 12 Sheet Calendar

QUANTITY
250
500
1000
2500
5000

Price Per Unit

$ .96
$ .91
$ .84
$ .77
$ .72